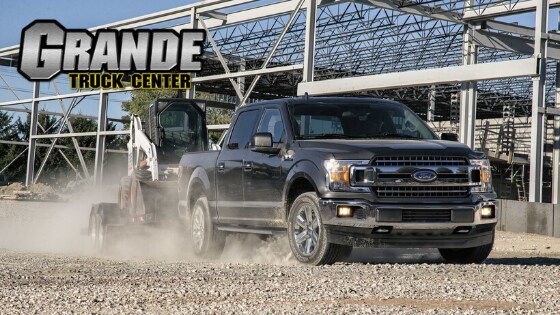 At Grande Truck Center, we're proud to have served the San Antonio area since August 1, 1967. Back then, we were known as Red McCombs Ford Truck Sales, Inc., but over the past 50 years, one thing has stayed the same - our dedication to providing top-quality customer service.
When Mr. R.S. Kane became the dealer principal in 1969, he officially changed the dealership's name to Grande Ford Truck Sales, Inc., better known as Grande Truck Center.
Thanks to our loyal customers and hardworking team, Grande Truck sales grew rapidly. By 1978, our service and parts department had doubled in size, and we expanded to add more office space to accommodate our growing customer base. In 1983, we opened a light truck satellite operation. Our friendly, knowledgeable team, along with new and returning customers, helped make this venture a massive success. To serve all of our new customers, we opened a light truck service and sales office in 1986. It helped bring the business from our light truck operation home to our main facility, conveniently located on Interstate 10.
Grande Truck Center continued to grow by leaps and bounds. In 1988, we obtained the White Truck franchise, which as later known as WhiteGMC. Nowadays, you know it as Volvo Trucks. In 2005, Volvo Trucks moved to its current location, at Grande Sales & Service, located on Interstate 35 and Weidner Road. During this era, our Grande Sales & Service dealership sold and serviced Mack trucks.
The late 1990s and 2000s were a period of change and challenge for Grande Truck Center. In 1997, Ford sold its Heavy Truck division to Daimler Trucks North America. After that, Ford Heavy Truck was known as Sterling Truck. Following this development, Grande Truck Center became a Sterling Truck dealer between the years of 1998 and 2008. During this period, we were one of the nation's top sellers of Sterling Trucks. However, Daimler Trucks North America discontinued Sterling Trucks in 2009. Since Sterling Trucks accounted for more than half of our sales, this was a difficult time for our dealership.
To help Grande Truck Center weather the storm and regain dominance, we acquired full ownership of our Mack and Volvo dealership, Grande Sales & Service. We moved the operation back to our Interstate 10 location. However, our Interstate 35 and Weidner Road remains open to provide parts and service for Mack and Volvo trucks.
However, the 2000s also brought plenty of successes for our dealership. In 2004, we obtained Western Star Franchise, which we maintain to this day. Western Star Franchise is famous for its high-quality, hand-built products that far surpass industry standards.
Nowadays, Grande Truck Center still proudly sells top-quality trucks at our Interstate 10 location, where our operation began over 50 years ago. At our dealership, you can shop for the full lineup of Ford SUVs, crossovers, and trucks, including the Medium Duty F650 and F750. Plus, we offer the full line Western Star, Volvo, and Mack trucks.
Over our decades of doing business, we've earned a number of prestigious accolades, including the Ford President's Award five years in a row. We've also been ranked in the National Top Five List of Ford Medium Duty Dealers on 10 occasions. In 2010, we were the nation's top Ford Medium Duty dealer, and in 2016, we were Southwest Region Dealer of the Year for Volvo trucks.
From our name to the brands we offer, a lot has changed over our decades serving the San Antonio area. However, one thing has stayed the same - our dedication to providing our customers with top-quality service. Our staff of Truck Experts knows what it takes to get the job done right.
Hours
Monday

8:00AM - 6:00PM

Tuesday

8:00AM - 6:00PM

Wednesday

8:00AM - 6:00PM

Thursday

8:00AM - 6:00PM

Friday

8:00AM - 6:00PM

Saturday

9:00AM - 3:00PM

Sunday

Closed
Have A Question? Ask Us!